STAR WARS NEWS: The Final 'The Last Jedi' Trailer Hits!
By Muuka Muyumba
Star Wars: The Last Jedi premiered its final trailer ahead of the December release during ESPN's Monday Night Football. The film will tell the story of Rey's (Daisy Ridley) development into a full fledged Jedi under the tutelage of master Luke Skywalker (Mark Hamill). A mystery still revolves around Rey's parentage and Luke's absence from the fight against the First Order.
Luke's one-time pupil Kylo Ren (Adam Driver) is finishing his training himself and continues his search for Luke in an effort to completely turn over to the Dark Side. Kylo's mother General Leia (Carrie Fisher) leads the fight against the First Order which is pits her against Supreme Leader Snoke (Andy Serkis), General Hux (Domnhall Gleason), and Captain Phasma (Gwendoline Christie).
Your ads will be inserted here by
Easy Plugin for AdSense.
Please go to the plugin admin page to
Paste your ad code OR
Suppress this ad slot.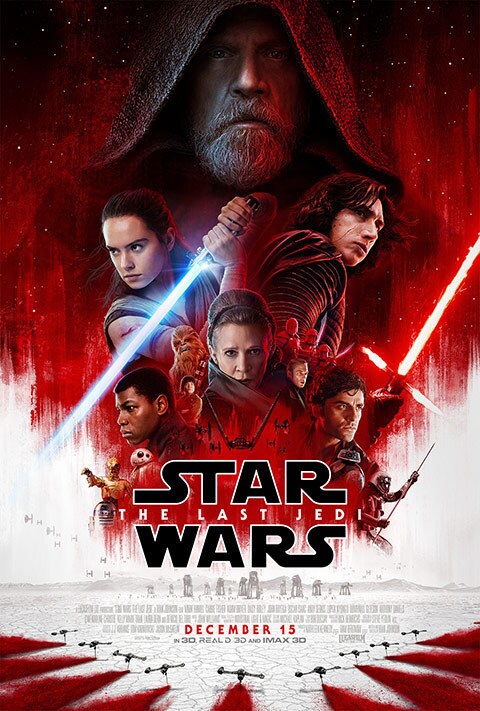 The film also sees the return of the reluctant resistance fighter Finn (John Boyega) and his best buddy, and the best fighter pilot in the galaxy Poe Dameron (Oscar Issac). We will be introduced to newcomers D.J. (Benicio Del Toro), Vice Admiral Amilyn Holdo (Laura Dern), and Rose (Kelly Marie Tran).
Director Rian Johnson brings The Last Jedi to theaters on December 15, 2017.