SDCC14: What Avengers: Age of Ultron Props Tell Us About the Movie
By Muuka Muyumba
Props from the Avengers: Age of Ultron set debuted on the last day of San Diego Comic-Con 2014.
The Hulkbuster gauntlet, an arm from an android from Ultron's army, the cracked shield of Captain America, and the previously revealed, Loki staff. No details were released with these "artifacts" but we know that this version of the Avengers is dark and will put the team in true jeopardy versus Ultron.
Avengers: Age Of Ultron has no official synopsis beyond the official tagline is "The Avengers must assemble to combat the threat of Ultron!"
So, let's consider what we know (and what we can guess) about the film so far. First, we know that HYDRA  infiltrated S.H.I.E.L.D., Cap exposes this deception, S.H.I.E.L.D. is disavowed by the United States, and it appears that Stark Industries will step into the void left.
In an effort to provide comprehensive and effective global security, Tony and Banner may work together to create Ultron and a few drones based on his skeletal schematics to become non-lethal sentinels. In all his hubris, Stark imbues Ultron with human-like decision-making and logic. Unfortunately, Stark underestimated Ultron's capacity to assimilate information and the android becomes self-aware.
Meanwhile, Captain America, Black Widow, and Hawkeye are still cleaning up HYDRA cells around the world. They come across a few HYDRA sites that have "enhanced" prisoners. After extremis proves to be too unstable, they move on to refining the potential of the fragment of the Tesseract left from Loki's staff. HYDRA realize that they can use his staff to "enhance" and control the unique abilities of mutated humans they have captured around the world.
Your ads will be inserted here by
Easy Plugin for AdSense.
Please go to the plugin admin page to
Paste your ad code OR
Suppress this ad slot.
As Cap, Widow, and Hawkguy start to break into these facilities, they don't realize what they are letting loose on the world. Their only hope is to try to bring these mutated humans into the fold by housing and trying to train them to become Avengers.
Stark has taken over several old S.H.I.E.L.D. training academies and converted them to "Avengers" academies. As the Avengers convene to celebrate busting up HYDRA and created a global security force, Ultron attacks.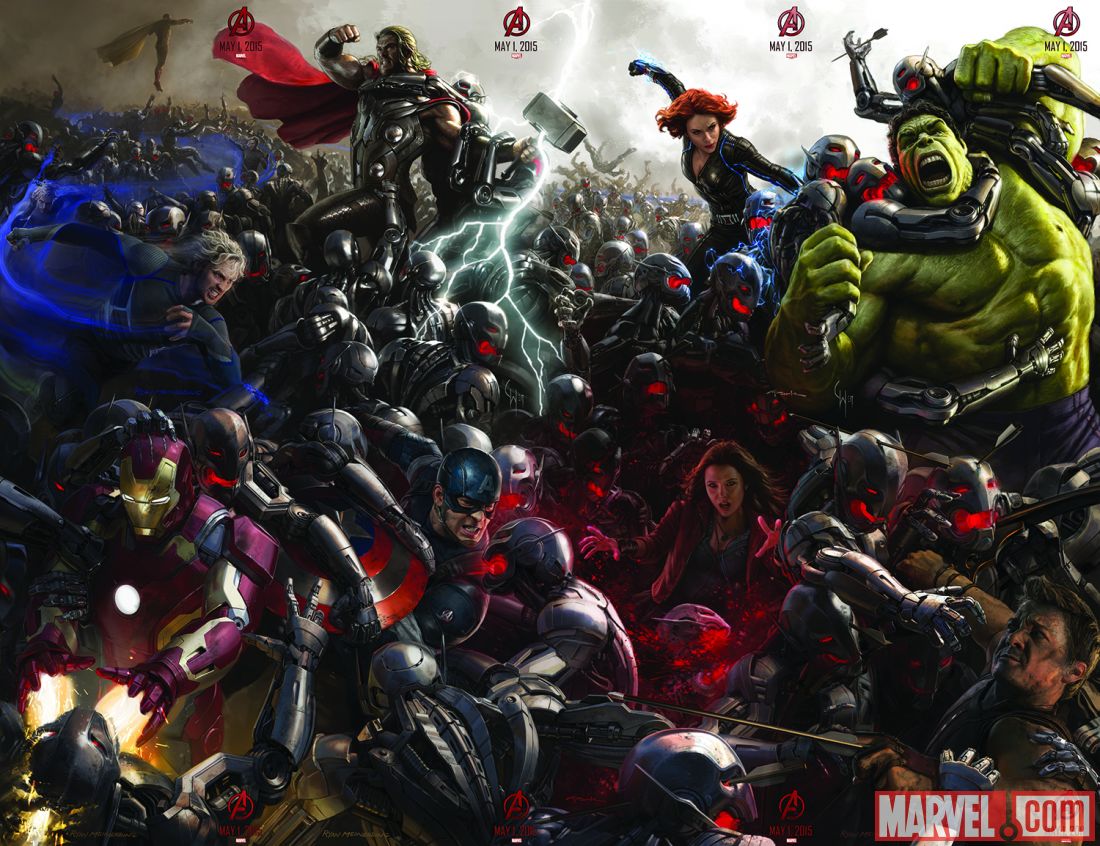 As Ultron's awareness grows, he tries create his own fighting force, but not before his own hubris gets the best of him. Ultron creates The Vision, a mandroid who also strives to be more self-aware. Ultron's mission eradicate man-kind to preserve peace.
The Avengers must assemble to defeat Ultron and his minions. A smashed shield is the scariest image and I wonder if he will be the last man standing between Ultron and ultimate domination.
The props appear to be the spoils of war, but this battle will likely have no winners based on what we heard of the Comic-Con exclusive video.
Excited yet?!? How do you think this movie will play out?