SDCC 2016: The Guardians of the Galaxy Hits Hall H for Volume 2
By Muuka Muyumba
Director James Gunn came out on stage for what appeared to be a standard presentation of the cast and new footage for the upcoming new sequel. However, fans were treated to a flash mob of Yondu (Michael Rooker) and his Ravagers cheering and jeering the cast as they were announced.
Volume 2 sees Chris Pratt returning as Starlord with Zoe Saldana as Gamora, Dave Bautista as Drax, Bradley Cooper as Rocket, and Vin Diesel as Groot. New additions to the cast include Elizabeth Debicki as Ayesha and Kurt Russell as Ego, which confirms previous reports of him being Starlord's father based on the footage that debuted tonight.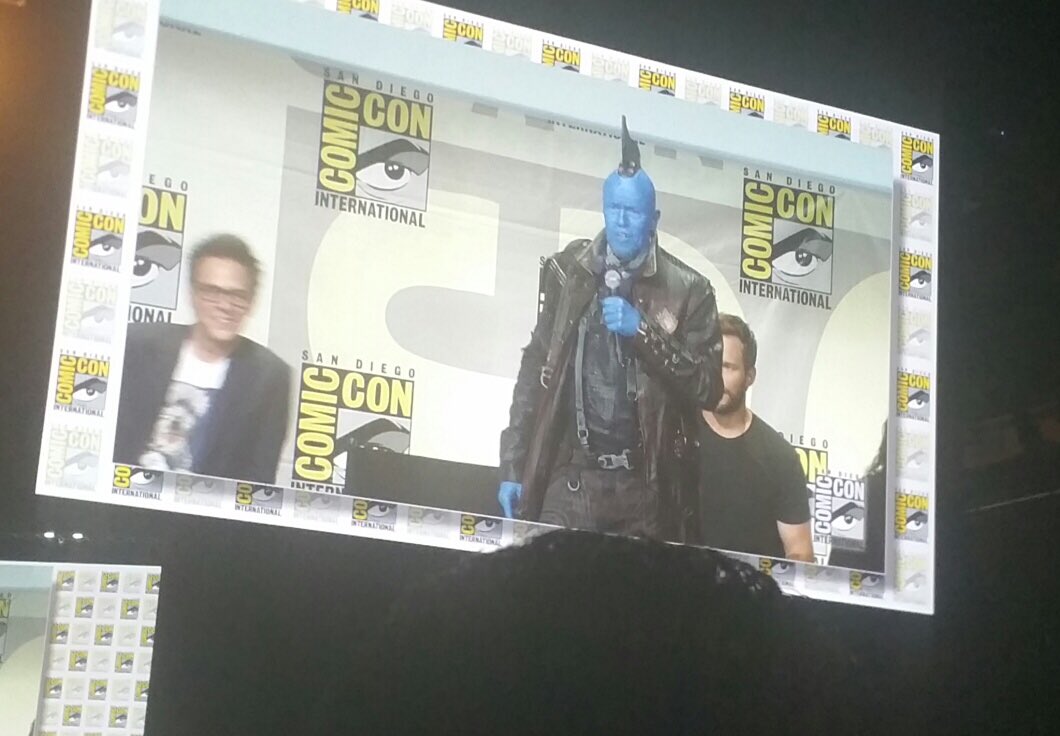 Slashfilm described the footage this way (SPOILERS AHEAD):
The Guardians of the Galaxy Vol 2 Comic-Con trailer opened, naturally, with a close-up shot of Awesome Mix Vol. 2. Baby Groot picks up two wires to connect them, and Fleetwood Mac's "The Chain" starts playing.

We then see the Guardians in a giant glowing circle with spheres surrounding them. Something serious is about to go down. Star-Lord and Gamora begin their usual petty (and funny) bickering about her weapon of choice, a rifle rather than her usual sword. "We've been hired to stop an inter-dimensional beast, and I'm going to stop it with a sword?" she says. "You're the one who's being inconsistent!" he protests.

But the arguing stops when a giant portal opens in the distance and something — perhaps a ship or a creature — comes through. "Showtime, assholes," says Peter.

We then see the Guardians walking through a forest, and then into a giant gold hall. Sitting on star-shaped thrones above them are statuesque gold figures including Ayesha, played by Elizabeth Debicki. "Careful, these people are easily offended and the consequence of transgression is death," warns one of the Guardians.

Star-Lord gives Ayesha a flirty wink, but it's really Rocket Raccoon who gets the facepalm moment. "They told me you people were conceited douchebags," he starts as the other Guardians stare at him in horror. "But that isn't true at all!" he finishes.

After a few snippets of big, bright, colorful action, we cut to the Guardians in the forest. They're arguing again. "Well, they're trying to kill us, you stupid racoon!" yells Peter. Rocket is offended at being called a raccoon, so Peter apologizes. Sort of. "I'm sorry, I took it too far. I meant trash panda," he says.

Your ads will be inserted here by

Easy Plugin for AdSense.

Please go to the plugin admin page to
Paste your ad code OR
Suppress this ad slot.

"Is that better?" asks Drax.

Peter laughs. "No, it's worse, it's so much worse."

The trailer then shows us quick flashes of each of the new characters one at a time, including Star-Lord, Gamora, Drax, Raccoon, Drax, Yondu, Nebula, Mantis (who's an alien with antennae). There's some typically crazy stuff going on including Gamora fighting a giant octopus. And then… a giant egg-shaped thing begins lowering itself into the forest. It opens, and out step an unfamiliar man played by Kurt Russell, and Mantis played by Pom Klementieff.

"After all these years, I've found you," says Russell's character.

"Who the hell are you?" responds Peter.

"I figured my rugged good looks would make that obvious," responds Russell's character. "My name's Ego and I'm your dad, Peter."

Ego explains that he's not a human, but has made a human body for himself. "I create what I imagined biological life would be like, down to the most minute detail," he says.

Drax has a question. "Did you make a penis?"

The other Guardians react with exasperation, especially Peter who protests that he doesn't need to hear about how he was conceived. But Drax insists, and Ego (who seems unfazed) answers. "Yes, Drax, I've got a penis." "Thank you," Drax says.
Guardians of the Galaxy, Volume 2 hits theaters on May 5, 2017.