CBTVB: The Berlanti-Verse is Looking to Bring Black Lightning into the Fold
By Muuka Muyumba
The CW has tasked uber TV producer Greg Berlanti with 4/5 of its TV line up each night of this upcoming fall season of TV. He is producing each of the CW's 8 PM TV shows between Monday and Thursday with Supergirl, The Flash, Arrow, and DC's Legends of Tomorrow on each of those nights.
Today, Deadline is reporting that Berlanti may be looking to expand to another night of superhero TV and is in development on a Black Lightning TV series. He is partnering with The Game and Being Mary Jane creator Mara Brock Akil and her husband Salim Akil for Black Lightning, a drama series based on the DC character created by Tony Isabella with Trevor Von Eeden in Black Lightning #1 (April 1977).
The upcoming series is said to focus on a hero who's made a choice: "he hung up the suit and his secret identity years ago, but with a daughter hell-bent on justice and a star student being recruited by a local gang, he'll be pulled back into the fight as the wanted vigilante and DC legend — Black Lightning."
Your ads will be inserted here by
Easy Plugin for AdSense.
Please go to the plugin admin page to
Paste your ad code OR
Suppress this ad slot.
Black Lightning was DC Comics' first headlining black superhero, and his creator, Isabella, was put in charge of the title after his experience writing some early editions of Luke Cage for Marvel in the early 1970s. Olympic-level athlete and metahuman Jefferson Pierce returns to his neighborhood in the Suicide Slum section of Metropolis to find it in ruins and in need of a hero. In the comics, he is said to possess the "…ability to generate and magnify externally-localized electro-magnetic phenomena, by manipulating intense bio-electric fields generated from his body." He dons a costume and channels his lightning-based powers to take on the criminal element in his section of Metropolis.
The character has had several attempts to break out in his own titles throughout the years, but has typically been seen as somewhat of an exploitation character, and not totally a serious character on par with the the Holy Trinity.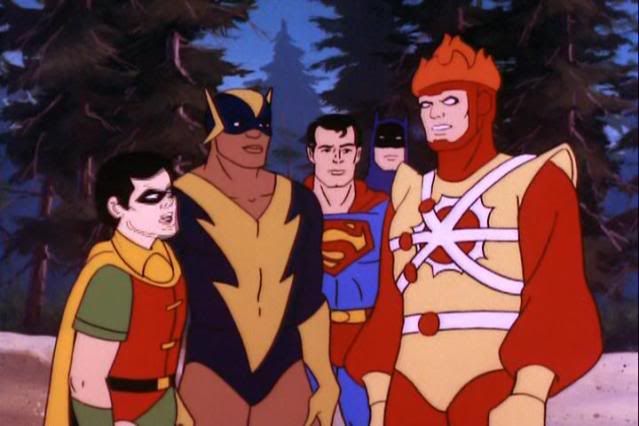 He came into popular culture's frame of reference during the late 1970s when he broke out on the SuperFriends Saturday morning cartoon. The character has also been featured in subsequent cartoon endeavors like Young Justice and Batman: The Brave and Bold.
The reports may be early, but Deadline notes that Black Lightning has long been in development without names attached. Now that Berlanti's name is connected to the series, it's more than likely that The CW will be a destination for the show. Also, there is no word on whether Black Lightning will connect with the other Berlanti-verse TV shows, but, again, it is more than likely to happen.