CBTVB: Marvel's Netflix Series Preview Their New Seasons
By Muuka Muyumba
Marvel TV Prexy Jeph Loeb returned to the stage with the casts of season 1 Jessica Jones and season 2 of Daredevil, which are both currently filming in New York. Last year, Marvel's Daredevil debuted exclusive first looks at the trailer, and now Marvel's Jessica Jones has debuted her full first episode showing just how dark this series is going to go. However, before the festivities began, Jeph Loeb took a moment to bring on the first three of the Defenders.
First up was Marvel's Daredevil, where the main cast, Charlie Cox aka Matt Murdock, Elden Henson aka Foggy Nelson, and Deborah Ann Woll as Karen Page were joined on stage by new additions Jon Bernthal as Frank Castle and Elodie Yung as Elektra. Not many details were revealed, but we did learn that Bernthal feels the most pressure about season 2 then most of his co-stars. We also learned that Yung is a black belt in real life and that fact may have had a lot to do with her casting, aside from her acting talent.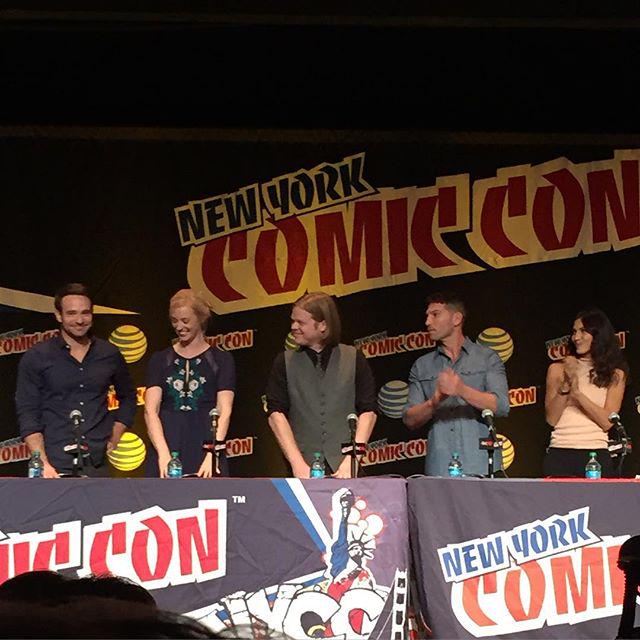 Loeb debuted a sizzle reel of the 2nd season that showed flashes of the series including Elektra putting on her mask, Daredevil in his new red suit, and our first on screen look at The Punisher walking down the hall, telling someone to 'Beg'.  Still no official word on when in 2016 we'll see Marvel's Daredevil return to Netflix.
Your ads will be inserted here by
Easy Plugin for AdSense.
Please go to the plugin admin page to
Paste your ad code OR
Suppress this ad slot.
Marvel's Jessica Jones was next up for the Netflix TV panel and they brought the good, including, as noted above, the entire first episode of the series. The cast on stage included Krysten Ritter as Jessica Jones, Mike Colter as Luke Cage, Carrie Anne Moss, Rachael Taylor as Trish Walker, Erin Moriarty as Hope, Eka Darville as Malcolm, and Wil Travil as Officer Will Simpson. One person missing on stage was the big bad of the series, Kilgrave, played by David Tennant who was in England performing in a play.
What we have heard over and over again about this series is that Marvel will not shy away from the adult themes involved in Brian Michael Bendis's seminal work Alias. That story involved expletives, extreme sexual situations, and a lot of drinking. From the reception on Twitter, Marvel did not miss the mark with some who were in the room calling the episode "compelling", "dark", and "excellent".
A common sentiment was that there was no set up in the series in that we don't have the origin opening like we had in Marvel's Daredevil. We may eventually see some of her history, but the focus will be on a traumatized heroine. Despite the first episode showing, many things about the series remain under wraps except now we know Moss's mystery role.
Moss will play Jeryn (?) Hogarth aka Jerry Hogarth, a male character from the comics who on the show will play a similar role as an attorney who defends the heroes. This is a major gender-swap to comics fans, and apparently she and Trish Walker will have a romantic relationship.
Now, anticipation for the series is at a fever pitch and we only have a few weeks until we see the first season of the 2nd Defender. Marvel's Jessica Jones hits Netflix on November 20, 2015.