CBTVB: Marvel's Agents of S.H.I.E.L.D. Renewed for Season 4
By Muuka Muyumba
Marvel's Agents of S.H.I.E.L.D. returned this evening after news broke earlier today that ABC is bringing back the first Marvel foray into TV for another season of action. After many fits and starts, MOAS has mutated into a monster-of-the-week action stalwart for ABC that has forged its own path into Marvel lore.
The series began as what many believed would be an exploration of the Marvel Cinematic Universe beyond The Avengers, or an expensive clean up crew. Now, the series is an Inhuman-laden action adventure series focused on a black ops crew of former S.H.I.E.L.D. agents who are now Secret Warriors fighting against an evil Inhuman invasion. Another major factor this season is that the series has turned dark. So dark that Agent Phil Coulson's (Clark Gregg) super spy girlfriend was shot dead in front of him.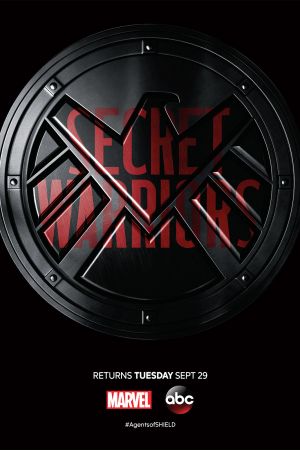 Marvel's TV fare has seen leaps in creativity since the introduction of its Netflix Defenders franchise, and fanboys and girls have been waiting for that goodness to spill over into its ABC shows. Now, with Marvel's Agent Carter, and Agents of S.H.I.E.L.D., Marvel has found distinct voices for its broadcast shows independent of a film franchise that doesn't seem to want to have anything to do with TV.
Your ads will be inserted here by
Easy Plugin for AdSense.
Please go to the plugin admin page to
Paste your ad code OR
Suppress this ad slot.
When Agents of S.H.I.E.L.D. worked into its first season, many signals were sent that the TV and film worlds would intersect frequently. However, over the past 3 years, the chasm between film and TV has seemed to only grow wider. Each side has been talking openly about the divide, but has still left room open for a crossover. Only today, Marvel producer Nate Moore offered up that there may be more of a chance now in speaking to Slashfilm.
I think it's possible for sure. It's interesting that the TV timeline and the film timeline moves so differently because they tell stories so quickly because they have 10 to 22 episodes. So sometimes it's just hard for those things to line up perfectly. But we love that idea of ultimately, say a Luke Cage, Jessica Jones, Daredevil, Punisher, Agents of SHIELD, maybe there's a way to get 'em back in there as long as it makes sense for our storytelling and doesn't prohibit them from telling a story. We say 'oh, this happened to Daredevil somewhere in the future' and they go 'Well, that's not what the TV show wants us to do.' We don't want that to start to feel like there's friction so we haven't figured out how to do it but we'd love to do it.
MOAS is certainly staking its claim to the Inhumans, a concept that has yet to touch the films, but is destined for its film franchise which is slated to launch in July of 2019. For now, Marvel's Agents of S.H.I.E.L.D. will continue to air on ABC at 9 PM on Tuesdays.