CBTVB: Marvel Has Found it's Foggy Nelson
By Muuka Muyumba
One-time Mighty Duck, Elden Henson has been hired to play Matt Murdock's law partner and best friend Foggy Nelson. He is probably best known for playing Fulton Reed in the Mighty Ducks movies. He has recently been cast to play Pollux in The Hunger Games: Mockingjay Parts 1 and 2.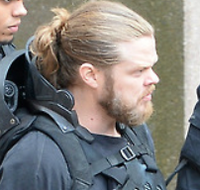 Henson joins Charlie Cox, Vincent D'Onofrio, and Rosario Dawson in the Marvel/Netflix production.
"Elden plays one of the most important characters in the world of 'Marvel's Daredevil,' and we're thrilled to see Foggy Nelson brought to life by such an incredibly talented actor," said Jeph Loeb, Marvel's Head of Television. "He perfectly captures the heart and soul of this series, bringing an added resonance to Matt Murdock's fight against the injustice in their great city.
Your ads will be inserted here by
Easy Plugin for AdSense.
Please go to the plugin admin page to
Paste your ad code OR
Suppress this ad slot.
Henson has a long history of acting since he was a child and started a production company called Roulette Entertainment with Josh Hartnett.
Daredevil will be a 13 episode mini-series on Netflix that will lead into an Avengers-like team up movie with Luke Cage, Jessica Jones, and Iron Fist. The team is named the Defenders.