CBTVB: First Look at Laurel Lance as the Black Canary on Arrow
By Muuka Muyumba
Arrow appears to have finally figured out what to do with Laurel Lance. Katie Cassidy has portrayed Laurel since the beginning of the CW actioner, first acting as the damsel-in-distress in season 1 who was the former jilted lover of the returned Oliver Queen (Stephen Amell). Oliver not only had to weather his first year as a vigilante, but also had to deal with the guilt of cheating on Laurel, but also seemingly watch her sister Sarah (Caity Lotz) die. Cassidy has personally had to weather the storm of hate thrown at her character as the creatives promised a slow build for her.
As Laurel worked through her feelings after Oliver's return and Sarah's death, in season 2 she got over Oliver and fell in love with Oliver's best friend Tommy Merlyn (Colin Donnell). Tommy died at the end of season 2, leaving Laurel a mess who was abusing alcohol and pills. Laurel then found out that her sister, Oliver, and her father had been lying to her, finding out that they were the masked vigilantes that she had been chasing down in season 1 and 2. This season, Laurel seemed to be finding her footing as she had turned to AA and was back working as a prosecutor working with The Arrow and The Canary. Unfortunately for Laurel, nothing good last forever, her sister returns to Starling City, but is shot down by a flurry of arrows. Shortly before the end of last season, Sarah had a conversation with Laurel about leaving Starling City and symbolically gives her black jacket to Laurel at the end of the episode, indicating the entrance of the Black Canary in the third season.
Your ads will be inserted here by
Easy Plugin for AdSense.
Please go to the plugin admin page to
Paste your ad code OR
Suppress this ad slot.
Laurel has always had a deep-seeded anger underlying her character, beginning when she was jilted by Oliver, but it appears that Sarah's death has finally pushed her to the edge. She has not only transformed her life by getting clean, she has now transformed her body into a fighting machine. This season Laurel has been working out her aggression with Wildcat Gym operator Ted Grant (J.R. Ramirez), aka The Wildcat.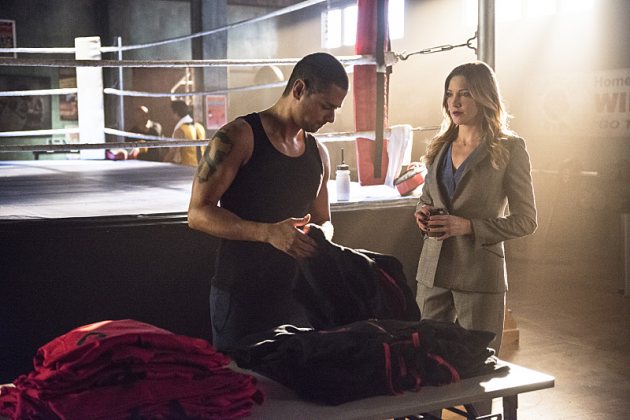 Now, Laurel is officially the Black Canary in the newly released photos from The CW. She looks particularly aggressive with the billy club rather than her sister's trademark bo staff. The new Black Canary will make her first appearance in the 10th episode of the season, "Left Behind".
Tune into Arrow tonight and every Wednesday at 8 PM ET on The CW.