CBMB: Warner Bros Releases Official Wonder Woman Cast List and Photo
By Muuka Muyumba
Everyone believes that Warner Bros is in a comic book movie war with Marvel Studios. However, after the release of a photo of a one-time Wonder Woman actor Megan Gale was revealed, Warner Bros then released a new photo, albeit in the middle of Friday night, of their current Wonder Woman, Gal Gadot, in promotion of the production announcement for the official film.
Gale was supposed to play Wonder Woman in George Miller's now-legendary Justice League: Mortal back in 2005 before a writers' strike derailed all of the plans. The photo is part of a roll out of defunct promo materials from a documentary team that is attempting to highlight Miller's work. The photo of Gale's Wonder Woman shows us just how far along the production was before things were shut down.
The current production has now started principal photography under the direction of Patty Jenkins (Monster).
From Warner Bros: …."[Wonder Woman] will make her big screen debut this spring in "Batman v Superman: Dawn of Justice," but the new film will mark her first time headlining a feature.The film also stars Chris Pine (the "Star Trek" films) as Captain Steve Trevor, Robin Wright ("The Girl with the Dragon Tattoo," Netflix's "House of Cards"), Danny Huston ("Clash of the Titans," "X-Men Origins: Wolverine"), David Thewlis (the "Harry Potter" films, "The Theory of Everything"), Ewen Bremner ("Exodus: Gods and Kings," "Snowpiercer"), Saïd Taghmaoui ("American Hustle"), Elena Anaya ("The Skin I Live In") and Lucy Davis ("Shaun of the Dead").

The film is being produced by Charles Roven, Zack Snyder and Deborah Snyder, with Richard Suckle, Stephen Jones, Wesley Coller, Geoff Johns and Rebecca Roven serving as executive producers.

Joining Jenkins behind the camera are director of photography Matthew Jensen ("Chronicle," "Fantastic Four," HBO's "Game of Thrones"), Oscar-nominated production designer Aline Bonetto ("Amélie," "A Very Long Engagement," "Pan"), and Oscar-winning editor Martin Walsh ("Chicago," "Jack Ryan: Shadow Recruit," "V for Vendetta"), and Oscar-winning costume designer Lindy Hemming ("The Dark Knight" trilogy, "Topsy-Turvy").

Your ads will be inserted here by

Easy Plugin for AdSense.

Please go to the plugin admin page to
Paste your ad code OR
Suppress this ad slot.

Principal photography will take place on location in the UK, France and Italy.

Set to open in 2017, the Wonder Woman feature film is based on characters created by William Moulton Marston, appearing in comic books published by DC Entertainment. It will be distributed worldwide by Warner Bros. Pictures, a Warner Bros. Entertainment Company."
Wonder Woman is rumored to be her origin story as she battles against the god of war Ares who is hellbent on starting World War III on Earth.
So, after all of that, we only know that Gadot is Wonder Woman, and Pine is Steve Trevor, but we'll have to guess at everyone else's role in the film. Also, we now know that Nicole Kidman has passed on the role that most likely went to Robin Wright, which is thought to be Hyppolyta, Wonder Woman's putative mother.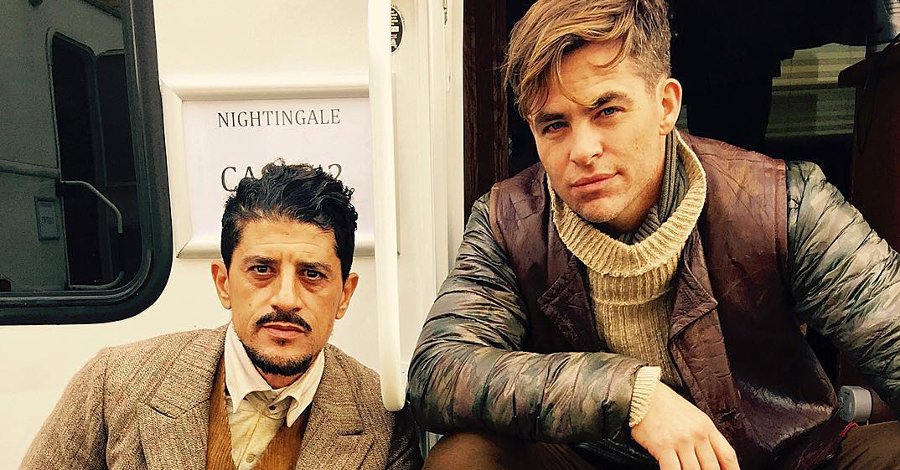 Featured actor Tahmoughi has spoken recently that he is playing a superhero role, but those reports have been questioned based on something possibly being lost in translation from the Moroccan website. However, we know that he will be some kind of compatriot of Steve Trevor as a photo of Tahmoughi and Pine had them in similar period gear.
Wonder Woman will also be Warner Bros first solo film in their new DC Extended Universe film franchise, and will kick start the DCEU post Suicide Squad.