CBMB: The Russo Brothers Tease Thanos in Marvel's Infinity War
By Muuka Muyumba
In a post back on August 14th, directors Joe and Anthony Russo posted that they were on their way back to Atlanta to start work on Avengers: Infinity War at Pinewood Studios.
Today, the Russo Brothers gave us a nice Facebook surprise with a photo of them working in rehearsals with a motion-capture-suited actor as they prepare to start filming Infinity War. The guy in the suit looks very much like the villain of the movie, Thanos as played by Oscar-nominee Josh Brolin.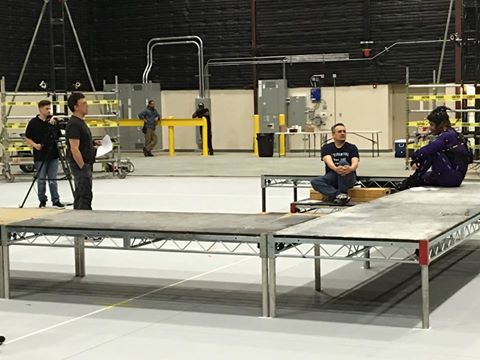 In Infinity War, Brolin will finally get his opportunity to fully embody the Mad Titan. He was introduced as the voice of Thanos in Guardians of the Galaxy in 2014, but that was a wholly computer-generated performance of an animated character. Next summer, in Avengers: Age of Ultron, Brolin reprised his role, but only in a post-credit scene with one line.
Your ads will be inserted here by
Easy Plugin for AdSense.
Please go to the plugin admin page to
Paste your ad code OR
Suppress this ad slot.
As Marvel president, Kevin Feige acknowledged back when Brolin was announced as Thanos, they always saw Brolin's role to be more than the glorified cameo or  a disembodied voice when Infinity War rolled around.
"We knew he was going to be in this movie. We wanted somebody to be more than just the voice. Josh did the performance as well. We were looking at a wishlist of, "Wouldn't it be great if names," and his name was on it. And you look at his face and the performances he gives, he could be Thanos without any effects. He has that kind of face and that kind of gravitas to it.

We reached out to him and it was one of those things that does not happen all the time but when it does it's very nice, where he was totally intrigued. He was a fan of what we did, he met with Jeremy Latcham in a hotel in London and learned about the characters a little bit. I spoke to him on the phone a few times. We ran it by James who loved it, ran it by Joss who loved it because Thanos is in this universe because of Avengers. Then we shot him and recorded for it."
Avengers: Infinity War hits theaters on May 4, 2018.