CBMB: Street Scenes from Thor: Ragnorak May Lead to the Sanctum Sanctorum
By Muuka Muyumba
The brothers are back together: Thor (Chris Hemsworth) and Loki (Tom Hiddleston) have joined forces to stop traffic in downtown Brisbane, Australia. The Ragnorak shoot has moved to the big city to stand in for New York in what appears to be the remnants of an event in Times Square. Various outlets blasted photos of the shoot across the internet today.
A photo of Hemsworth and Hiddleston in repose show several news papers behind them that point to this event. The headlines ask 'Has Thor Returned', 'Times Square Murder', and 'Hammer Attack'. So, does Thor fight Loki in New York or some other type of threat from Asgard or other worlds? We shall see.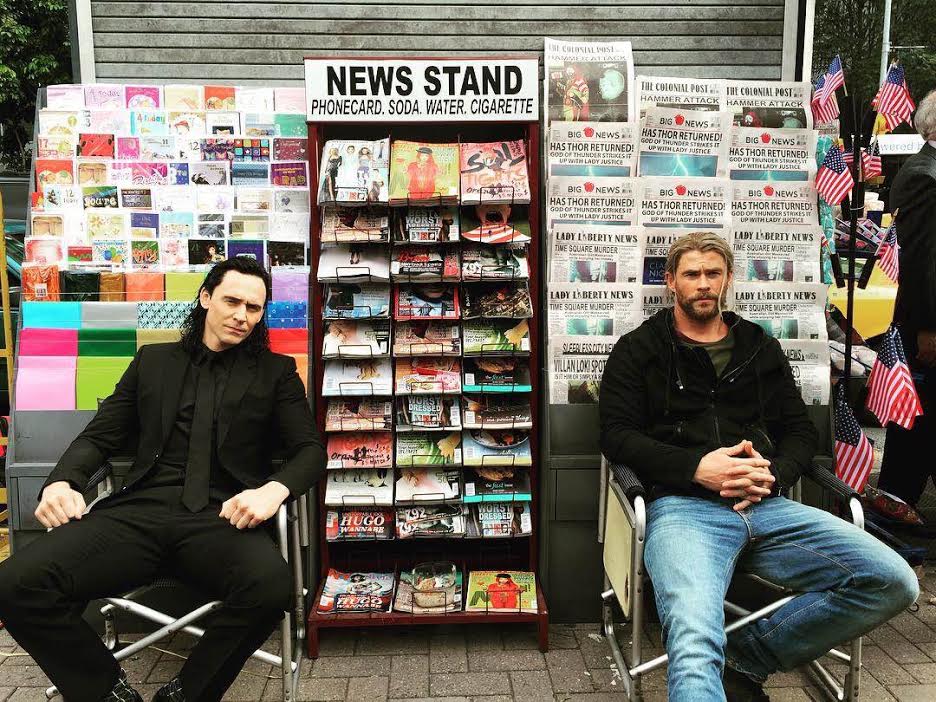 An even more interesting tidbit is that Thor is seen holding an intriguing card with an even more mystifying address. The card clearly shows that Thor may be in search of magical help from one Dr. Stephen Strange. No word on whether we'll see Benedict Cumberbatch pop up in Ragnorak, but indications are that Thor will further serve as a connector in the Marvel Cinematic Universe with the film have a relationship with The Avengers in the Hulk, Guardians of the Galaxy in the space operatic nature of Asgard, possible allusions to the quantum realm from Ant-Man and Dr. Strange, and further exploration of the history of the Infinity Stones, and the impending Infinity War. As you'll recall, Thor returned to Asgard in Age of Ultron seeking more answers about his vision he experienced in the cave.
Your ads will be inserted here by
Easy Plugin for AdSense.
Please go to the plugin admin page to
Paste your ad code OR
Suppress this ad slot.
The Ragnorak story, as we know it so far, will bring about the end of days in Asgard as Hela (Cate Blanchett), the Queen of Hel, brings her minions, Skurge (Karl Urban) and Fenris Wolfe, to usurp Odin's throne. The one problem with that plan is that it isn't Odin (Anthony Hopkins) on the throne as Loki tricked his way to replace his adoptive father.
Thor returns to Asgard in search of answers about who is working to unite the six Infinity Stones that have been haunting the MCU. However, he is somehow banished from Asgard and must battle Hulk (Mark Ruffalo), at the behest of the Grandmaster (Jeff Goldblum), to gain his freedom.  Questions remain where we can find these New York segments will fit into the framework of the movie.
More news broke late today at TheWrap when it was announced that former Devo front man Mark Mothersbaugh signed on to do the music for Ragnorak. This would be Mothersbaugh's introduction to the MCU, but he is no neophyte when it comes to big films, The Royal Tenenbaums, Welcome to Collinwood, Nick & Norah's Infinite Playlist, 21 Jump Street, and The Lego Movie. Mothersbaugh's addition gives even more indication to anachronistic approach to this version of Thor.
Ragnorak, from director Taika Waititi, hits theaters on November 3, 2017.