CBMB: Justice League Set Visits Signal a New Template for the DC Films
By Muuka Muyumba
Call it 'The Hope, Heart, and Humor Tour'. Many fan-sites were granted exclusive access to the set of Justice League by Warner Bros public relations and this access revealed several key revelations for the upcoming film, and a new path for the fledgling film franchise.  This entry is a collection of revelations from several sites like Collider, Heroic Hollywood, and Birth.Death.Movies. There are serious spoilers for scenes in the film, but doesn't ultimately spoil many surprises for the entire movie.
What was clear for most was that WB and DC were trying a new approach of openness in their development process, as well as highlighting a lighter tone that was absent from Man of Steel and Batman v Superman: Dawn of Justice. First of all, many noted that folks on set like producer Deborah Snyder, director Zack Snyder, producer Charles Roven, and producer/star Ben Affleck weren't referring to Batman v Superman: Dawn of Justice was only referred to as 'Batman versus Superman' or 'Batman and Superman'.
What was also apparent is that Warners was doing its best to show this change in strategy by giving details of the first half of the film.
The film will likely open up with a flashback to a time when the Amazons, the Atlanteans, and humans fought against an ancient incursion by Darkseid to Earth.  In the fight, and subsequent defeat of Darkseid, each civilization comes into possession of an Apokalips motherbox.  We saw a motherbox in one of those awkward viral videos that showed us the creation of Cyborg by S.T.A.R. Labs director, and father of Victor (Ray Fisher), Silas Stone (Joe Morton).
What many pundits took from this reveal was that DC Films was steering into a Marvel-like territory with McGuffins that will be a harbinger of the coming apocalypse of Darkseid. As we saw in Batman's nightmare sequence, he feels its his destiny to bring together the heroes necessary to fend off this threat.
One scene is said to involve Bruce Wayne sneaking into Barry Allen's apartment to try to attract him to fight crime with him. Collider provided a very detailed description of the scene:
Snyder showed us an edited scene from Justice League without finished effects. The scene showed Barry Allen (Ezra Miller) arriving at his apartment only to find Bruce Wayne (Ben Affleck) sitting in his second favorite chair. Bruce is telling Barry that he knows he's special but doesn't know how and Barry is trying to deflect everything being said with humor and well-written dialogue. Finally, Bruce has had enough and throws a Batarang at Barry who proceeds to slow down time using his super speed and catches the weapon. As he examines the weapon it dawns on him that Bruce is Batman. As he enters real time Bruce says, "so you're fast." Barry then says "so you're Batman?" Bruce explains he's putting together a group to battle what's coming. Before he's even four seconds into his pitch as to why Barry should join him Barry says, "I'm in." Bruce is shocked and proceeds to smile, extremely surprised at what just happened. Barry then tells him "I need friends. Can I keep this?" As the scene ended all the reporters in the room were laughing.
Many said that Miller's Flash is the scene-stealer the series needs as he will work as comic-relief as well as a devastating force for good. Batman, Wonder Woman (Gal Gadot), and The Flash will join forces as there are greater indications that the war has returned in the form of parademons (we saw them in that nightmare sequence in BvS) who have been snatching scientists around the world.
One scene in particular highlighted this story point as those heroes were seen meeting at the bat signal with Commissioner Gordon (J.K. Simmons) who is said to have a very classic look to the comics. Its only when Cyborg makes an appearance in the scene to note that his father is missing from S.T.A.R. Labs that we see another indication of a new direction as Wonder Woman is said to flash a big smile when Cyborg joins the fight.
Despite the threat of Darkseid, we aren't likely to see him in this film as Steppenwolf is said to be the villain leading these scientist abductions. As the threats increase, Batman sees that he also must meet these head-on and apparently has gone shopping. Not only will we see a new Batmobile, there is also two new vehicles called Knightcrawler (or crawler) and the Flying Fox.
Your ads will be inserted here by
Easy Plugin for AdSense.
Please go to the plugin admin page to
Paste your ad code OR
Suppress this ad slot.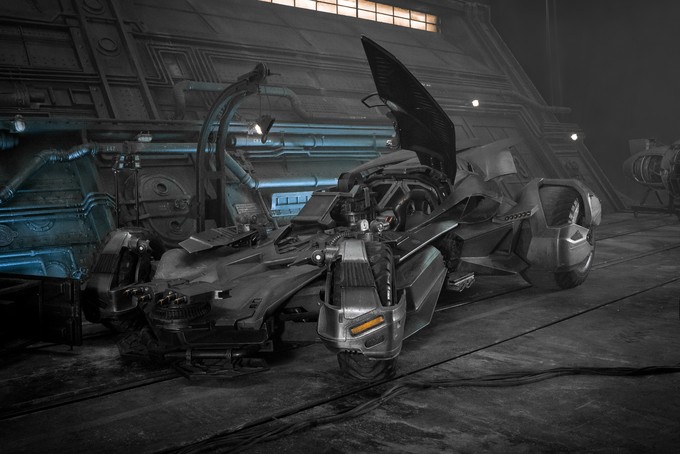 The Crawler is a four-legged Batmobile that is built for fighting in unusual environments like tunnels and on rock. The vehicle could be featured in a large action piece where the team fights parademons in a tunnel that connects Metropolis and Gotham. The Flying Fox is an armored personnel carrier that will be the Justice League's Quinjet. We also learned that Bruce Wayne is also working on a tactical Batsuit which will feature a new cowl, new tech, new goggles, a new cape, and a new batmobile and hideout called The Hangar, a facility that can house all of Batman's toys.
Other notes from the set visit include random items such as Willem Dafoe playing Atlantean Vulko, and Game of Thrones star Kristofer Hivju playing an ancient Atlantean king (possibly part of the flashback scene).
A new logo for the film has debuted.
Visitors also did not get the impression that Justice League would have a direct sequel as Deborah Snyder said the film currently in production is not a two-part film. With that knowledge in hand, the absence of Henry Cavill's Superman was made even more clear that we would not see him in most of the first half of the film.
Though Steppenwolf is the villain of the film, Warners hasn't closed on the actor's contract yet so they couldn't reveal who will be playing him.
Finally, there are way too many news and notes from the set visits to keep your attention, but know that Warners is working hard to change its image as well as show this change to the public at large. What wasn't done however, was a release of images of the new costumes of new characters. What I didn't notice was any indication that we are close to seeing other heroes like Shazam or the Green Lanterns show up in Justice League. For now, we will have to be heartened that most pundits were optimistic that we'll see a better and more fun film this time.
Warner Brothers describes Justice League this way:
Fueled by his restored faith in humanity and inspired by Superman's selfless act, Bruce Wayne enlists the help of his newfound ally, Diana Prince, to face an even greater enemy. Together, Batman and Wonder Woman work quickly to find and recruit a team of metahumans to stand against this newly awakened threat. But despite the formation of this unprecedented league of heroes—Batman, Wonder Woman, Aquaman, Cyborg and The Flash—it may already be too late to save the planet from an assault of catastrophic proportions.
Justice League doesn't hit theaters until November 17, 2017.