CBMB: EW Debuts First Look at Dr. Strange in Costume!!
By Muuka Muyumba
In a world where we see superheroes on the small and large screen almost everyday, its is still remarkable when we get to see the debut of a yet-unseen costumed hero. Today, Entertainment Weekly premiered the first look at Benedict Cumberbatch in his full Dr. Strange regalia, and it is AMAZING. They are no shying away from any aspect of the comic, and promising the most unique look in the Marvel Cinematic Universe.
The costume is extremely close to his comic book appearance, but one has to wonder whether we will eventually see some transformation into a more modern look, much in the same way that Captain America's battle suit continues to change. The classic blue tunic, red cape, medallion, and goatee are all there, so fans can check all those off their list.
Your ads will be inserted here by
Easy Plugin for AdSense.
Please go to the plugin admin page to
Paste your ad code OR
Suppress this ad slot.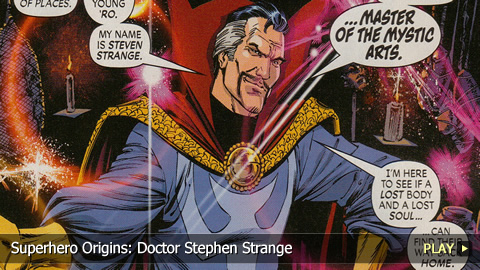 The film began production a little over a month ago on November 24, 2015 with leaked set photos showing Cumberbatch and co-star Chiwetel Ejiofor playing some cat and mouse while walking through the streets of Kathmandu, Nepal. The film tells the story of neurosurgeon Dr. Stephen Strange who, after a horrific car accident, discovers the hidden world of magic and alternate dimensions.
Director Scott Derrickson is working on the film starring Rachel McAdams and Michael Stuhlbarg with Mads Mikkelsen, and Academy Award winner Tilda Swinton. The film opens in theaters on November 4, 2016.