CBMB: Ava DuVernay Tapped by WB to Direct DC's 'New Gods' Movie
By Muuka Muyumba
Esteemed director Ava DuVernay is reportedly closing a deal with Warner Bros. to lead the development, and direct, of a New Gods movie. DuVernay is hot off bring the first black woman to shepherd a $100 million film to the big screen in A Wrinkle in Time. Although critics have been mixed about their reception to the film, Disney's faith in DuVernay was rewarded with a $40 million opening for a female-led YA title.
Despite DuVernay's love from Disney, she had been quite clear that she had no interest in their main tentpoles Marvel Studios or Star Wars. She notably turned down the offer to direct Black Panther, and recently had stated that she was not interested in a Star Wars movie even though Lucasfilm continues to expand their development schedule.
A recent tweet from DuVernay revealed that even though she didn't have interest in Marvel, she did have a favorite superhero, noting 'Big Barda. Many Reasons'. The hero is a New God and the wife of the popular escape-artist hero Mister Miracle.
Legendary comics writer and artist Jack 'King' Kirby moved from Marvel Comics in the late 1960s after creating several notable characters alongside another legend Stan Lee. Kirby had grown frustrated in his position as over-worked artist and sought a bit more notoriety away from Lee by moving over to DC where he created a new world of heroes and villains called The New Gods. Several fans noted how similar The New Gods were to Kirby's Marvel heroes The Inhumans, but fans still gobbled up anything new from the King.
Your ads will be inserted here by
Easy Plugin for AdSense.
Please go to the plugin admin page to
Paste your ad code OR
Suppress this ad slot.
The New Gods debuted in early 1971, and include characters like The Highfather, Darkseid, Steppenwolf, Orion, Metron, Big Barda, Mister Miracle, Granny Goodness, Kalabak, among many others. They are natives of the twin planets of New Genesis and Apokolips. Genesis is an idyllic planet, full of bounty while Apokolips is a war-world that is polluted and dystopic. The two planets were once the same world called Urgrund.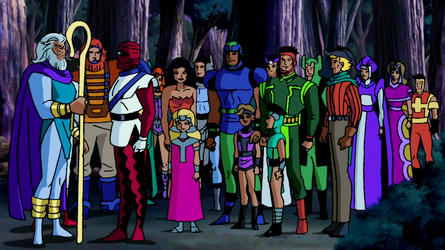 We were introduced to the notion of The New Gods first in Batman v Superman: Dawn of Justice, particularly during Batman's nightmare of a terra-formed Earth has humans subservient to Darkseid and parademons. Last winter's Justice League movie expanded on the notion of the New Gods when a herald of Apokolips, Steppenwolf (Ciran Hinds), came to Earth to find mother boxes to bring about a new world. Based on cut scenes and behind-the-scenes reports, original director Zack Snyder had intended a much more prominent role for the New Gods.
The end tag on Justice League seemed to show the Justice League moving away from The New Gods and swerving to a collision with the Legion of Doom.
DuVernay now sets herself up for a more prominent position in the development of a comic DC film universe. The studio has set Kario Salem as the writer. DC Films now looks to find their Guardians of the Galaxy with a visionary woman director leading the way.
Source: Variety